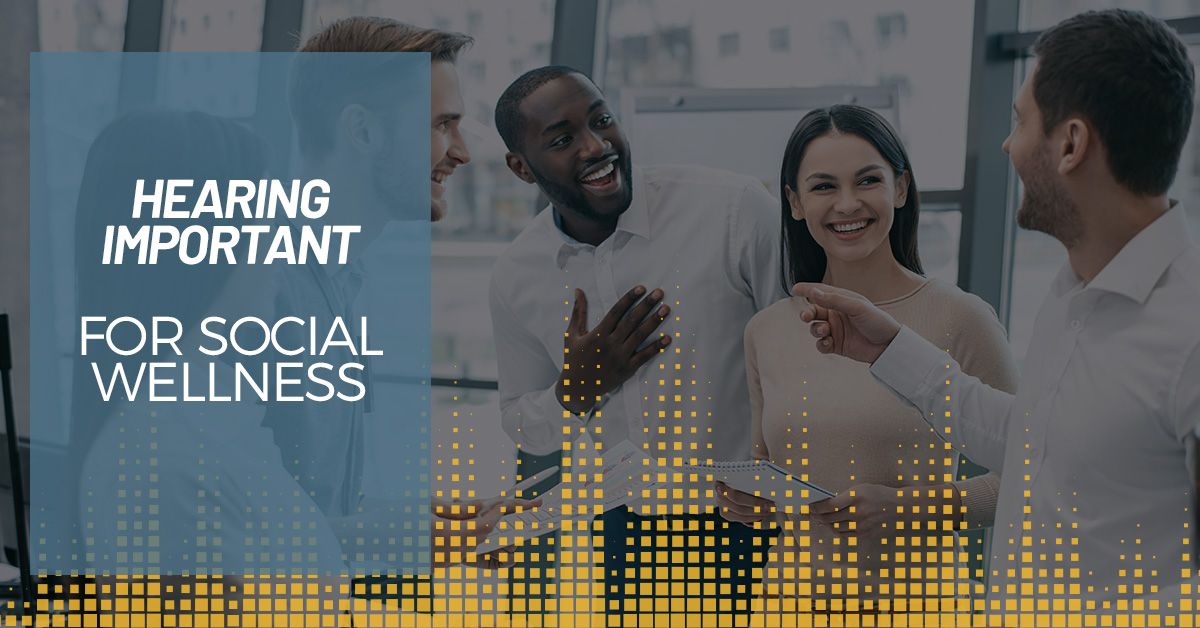 Hearing Important for Social Wellness
When it comes to our overall health, we all know physical health is important; however, a lot of us forget that social wellness is a key aspect of a good, healthy lifestyle. Mental stability and our mental health largely contribute to our physical well-being — most times, without us even realizing it.
A nutritional diet, regular exercise, and keeping our brains sharp are extremely important in regards to our health as we age, but we definitely shouldn't put our relationships or socialization with others by the wayside. In fact, studies have shown that individuals who prioritize strong relationships are more likely to be happy, less stressed, and in overall greater health.
Adequate hearing is a major factor that allows us to properly and efficiently communicate with others — a key for socialization. As we age, our hearing tends to worsen. Studies have shown that when individuals (especially seniors) are struggling with hearing loss, they tend to avoid situations and events where socialization is involved due to feelings of embarrassment or frustration. This can lead to depression, anxiety, loneliness, and isolation, which ultimately is a negative impact on the overall health of the individual.
Hearing and communication are vital parts of regular social activity, and recent research has shown that social activity is a protective measure against cognitive decline. Most individuals who struggle with hearing loss tend to exclude themselves from social activities they once enjoyed, which can be prevented with the assistance of an audiologist. An audiologist can help you navigate assistive hearing devices that address many severities of hearing loss.
Does this sound familiar to your individual situation? Do you or someone you love need the assistance of an audiologist in Calgary? Contact our highly trained and experienced team today at Audiology Innovations for a hearing evaluation, or with any questions about hearing loss or assistive hearing devices.
TIPS FOR REGULAR SOCIALIZATION
Nurturing relationships and taking steps to create new ones is essential for individuals to establish a reliable network that encourages them to learn new skills and open their minds to new perspectives — especially if their hearing abilities are diminishing.
Here are a few tips for regular socialization, leading to a healthier brain and overall lifestyle:
Volunteer for an organization you support or get involved with activities in your community.
Join a senior center, such as the Kerby Centre in Calgary, to participate in fun social activities and meet new like-minded people.
Take an online course or a course at a local community college or university to keep your mind sharp.
Learn how to utilize social media to stay close to friends and family!
Join a local church, temple, synagogue or another place of worship.
Apply for a part-time job.
Reach out to friends and family members regularly to grab a bite to eat or to go out for coffee or tea.
Revisit your old hobbies, or maybe even learn a new one!
Sign up for an exercise or fitness class.

NEED AN AUDIOLOGIST IN CALGARY?
Our audiologists at Audiology Innovations in Calgary are well-versed in hearing loss and how that relates to socialization. They can provide you with multiple educational resources about hearing loss that you may need for yourself or someone close to you. Our goal is to change people's lives, which is why we've been providing audiology services to those in the community for more than 15 years.
Don't continue to let hearing loss affect your everyday lifestyle. Contact us for a hearing evaluation or with any additional questions you may have about hearing loss, hearing aids, ear plugs and other audiology-related topics. You can call at (403) 252-4722 or fill out our online form.