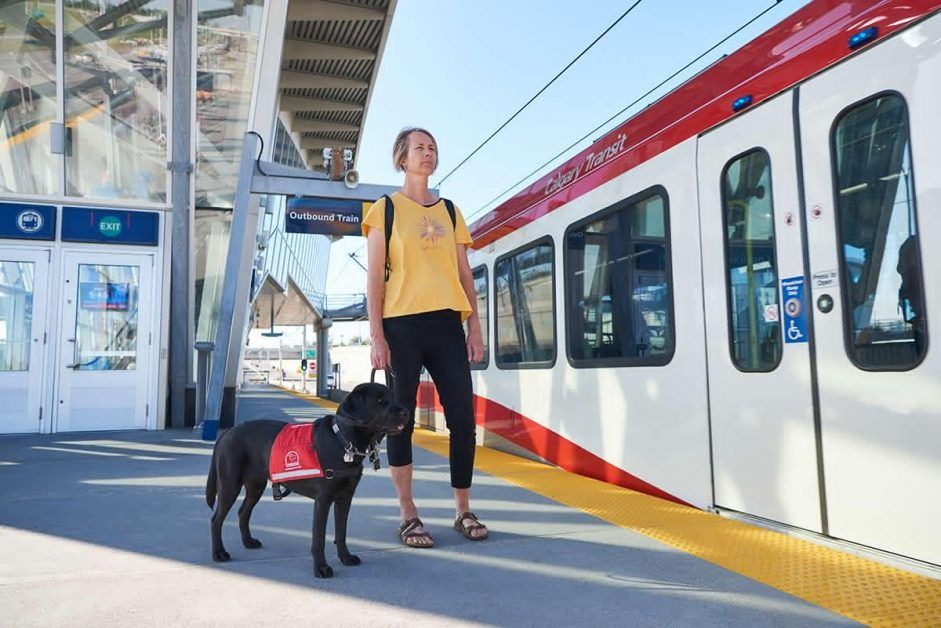 Hearing Loss and Service Dogs: Helpful Companions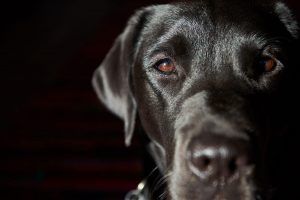 "I had the great pleasure of meeting my local hearing professional colleague's hearing dog recently. Sandra is a local hearing professional who recently received her hearing dog Shanty. Shanty is an absolutely beautiful and lovely dog. She is impeccably trained and loyal to Sandra. Sandra let me pat Shanty since we were in a casual setting when we met, and Shanty just loves affection, like most dogs 😊. I didn't realize how much training is required for a guide dog to help individuals with hearing loss or the very special bond that is created when we rely on a guide dog for our safety. It was eye opening to see first-hand and impressive as well." ~ Dr. Carrie Scarff
Many people don't know this, but service dogs are used for all kinds of purposes beyond assisting the blind. In fact, there are a wide range of uses for service dogs, including mobility assistance, diabetic alert, seizure alert, seizure response, psychiatric service, FASD, allergy detection, and more. Here, we'd like to go over one of a service dogs' potential jobs close to our heart, assisting people with hearing loss.
HEARING DOGS
A hearing dog's job is to alert their owner to important noises like doorbells, crying babies, alarms, etc. One of our favorite organizations, the Lion's Foundation, trains service dogs for the hearing impaired. These dogs end up becoming truly helpful companions to people that need them. To help you understand the impact these service dogs can have on people, we'd like to discuss an article written about a colleague of our owner who lives with a service dog from the Lion's Foundation.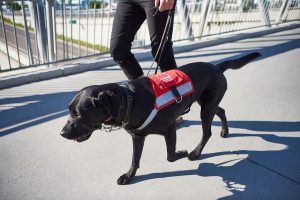 SANDRA AND CHANTY
Sandra works for the Calgary Board of Education as an audiologist. Her job involves helping students with hearing loss from over 300 schools get the help and technology they need to succeed. The mission goes far beyond getting physical resources into students hands, helping them understand the importance of speaking up for their own hearing needs, and becoming their own advocates.
Sandra had normal hearing when she was born, but by the time she was in pre-school, her mother started noticing signs and brought her to get tested. She was given hearing aids at a young age, which she notes is extremely important to get done early.
About three years ago, Sandra applied to the Lion's Foundation for a hearing loss guide dog. This isn't a quick process, as it took two years to complete, but Sandra was extremely excited to meet her guide dog, Chanty.
There's a process for meeting a guide dog, with the Lion's Foundation this involves a multi week training camp in Oakville, Ontario where dogs and owners are extensively trained. Even then though, the training isn't complete, rather it is a lifelong process. This is because many important sounds a service dog needs to react to (like a smoke alarm) aren't commonly heard, and need to be constantly relearned.
Now Sandra and Chanty are true friends. Their relationship goes far beyond a working one, but you would be hard pressed to find a harder worker than Chanty. Most of the working day the guide dog is on high alert helping Sandra navigate the world. But she (Chanty) also gets her playtime too, with just-for-her dog walks, play time at the dog park, etc.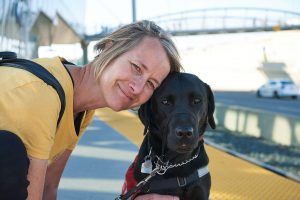 A TRUE FRIEND
To really learn about Sandra and Chantry's story, we recommend reading it directly. Their story exemplifies just how important the work at the Lion's Foundation is. Here at Audiology Innovations, we have been promoting the use of guard dogs for the seriously hearing impaired for over six years. If you would like to join us in promoting this great cause, donate to the Lion's Foundation here.